---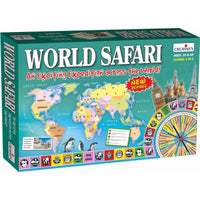 Pack your bags and get ready to travel the world with World Safari, an awesome and innovative educational aids board game.
This is a game that will put you in the shoes of an adventurer as you explore the planet and discover new and interesting things.
This intriguing game not only stimulates the mind but also allows it to go to different parts of the globe.
As you play this game, learn to know and understand the various animals and people that around you.
With the help of the colorful playing board, you can enter this world. You will take turns using the game's spinner and pawns, and if you get lost in this environment, simply consult the map provided.
This map will show you how to go around with ease while still enjoying the thrills and excitement.
Other intriguing things will be discovered when you travel throughout the planet and come across animals, plants, and humans.
In total, you'll find the answers to 672 perplexing and interesting questions regarding countries and capitals, continents, and other aspects of the world we live in.
Features
Beautiful Play Board

90 Large Question and Answer Cards

Answer cards on four different topics

Suitable for ages 9 years and older