---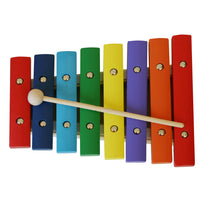 The beautifully crafted xylophone is designed to inspire the wonder, curiosity, and excitement of young children discovering music for their very first time.
♪ These early encounters with sound and rhythm can help to shape key developmental skills and foster a long love of music.
♪ The 8 tone bars for a wide note range, enables children to create their own songs.
♪ Create a resonant and beautiful rhythm sound with a wooden mallet.
♪ Improve your child's hand-eye coordination, concentration and musicality.
♪ Size: 220 x 170 x 35mm.