---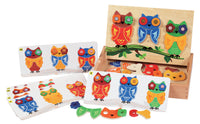 Mix & Match Owls is a top-quality, wooden recognition and imagination game. Mix and match the colours of the head, wings and body, along with the eyes.
Mix & Match your owl using the activity cards included, or make an owl using your imagination!
The wooden box lid becomes the base on which the wooden owl pieces can be put together.
Includes:
- 15 x Puzzle Pieces to make 3 full owls
- 6 x Double-sided activity cards
Age: 2 Years +
Item size: 24 x 36 x 6 cm