---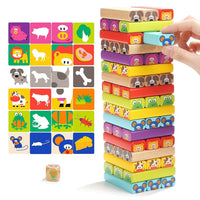 An animal-themed stacking game that follows the usual objectives of Jenga, to remove puzzle pieces from the tower without it toppling over, with this version featuring a dice and cartoon cards adding a completely new twist.

A fun and interactive game suitable for 2 or more players.

Includes:
- 51 x Colourful animal blocks
- 24 x Cartoon cards
- 1 x Dice
- 1 x Manual

Age: 3 Years +
Item size: 8.5 x 8.8 x 28.5 cm
Material: Teawood, Beechwood

Let children explore in play, discover self, and perceive the world with TopBright.