---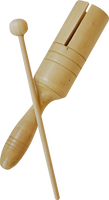 Our finely crafted 100% wooden Agogo has a smooth wooden finish, easy to play and kind on your hands.
♪ It is a fun piece of hand percussion with great sound.
♪ Delivers bright tones when struck with the included beater.
♪ Using the ditch in different ways, you can find different rhythmic sounds. Get a washboard or guiro sound by scraping with the beater.
♪ Its a quality kids percussion instrument that will bring hours of fun & a great point of entry for the starting percussionist.
♪ Size: 19cm