---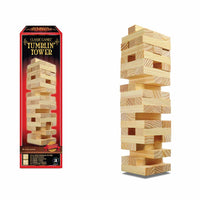 CODE: 
AM-ST011
Ambassador Classic Games: Tumbling Jenga Tower
The Tumbling Jenga Tower Game from Ambassador is an exciting game that is perfect for family game nights.
Players take turns removing blocks from the tower and placing them on the top. The object of the game is to build the tallest tower possible without causing it to tumble. Players must be careful to make sure the tower does not become unstable as it gets taller. If the tower does fall, the player who caused it to fall loses the game.
Tumbling Jenga Tower is a classic game that is sure to provide hours of fun for everyone!
Includes:
- 48 x Wooden Jenga Blocks
- Instructions
Age: 6 Years +
Item size: 8.8 x 8.8 x 27.5 cm