---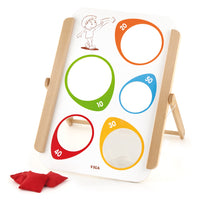 A great game of aim and throw!
A great throwing game contains a wooden framed stand and 3 bean bags.
Try to throw the bean bags into the holes whilst trying to earn as high a score as possible.
Foldable frame for easy storage as well as a net bag on one of the holes for storage of the bean bags.
Encourages hand-eye coordination and gross motor skills.
Play with family, friends or alone.
Age 2+.