---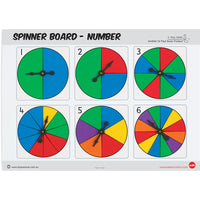 Teach students probability with this Spinner Board designed by Dr Paul Swan. Simply flick and record the results of a series of spins. The difficulty level of games and activities may be varied according to the spinners used.
Learning skills:
- Counting, Adding & Subtracting
- Early Math Skills
- Fine Motor Skills
- Promotes Problem-solving and other Mathematical Concepts
Includes:
- 8 x Spinners
Age: 8 Years +
Item size: 25 x 34 x 0.5 cm
EDX products are tested for compliance with EN71, ASTM and CPSIA standards.
All EDX products meet the ISO 9001 accreditation requirements.
EDX is committed to becoming carbon neutral through re-using, recycling and improving energy management.