---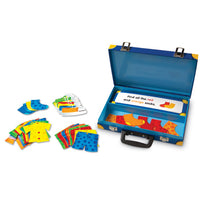 Age: 5yrs+
A "ready-to-wear" sorting and patterning centre! 
Refine fine motor skills and eye-hand coordination to coordinate your clothing!
Organization- Just like when packing for a trip, children learn to organize their suitcase and make sure they have matching clothing! The activity cards include reoccurring pattern activities that teach order and prediction.
Sort shorts, shirts, socks and shoes by 1 or 2 attributes. 
Targets colour and clothing vocabulary.
Set includes:
15 double-sided activity cards (5 are blank)
40 double-sided clothing cards
Activity guide 
Item size: 11 x 7.25 x 2cm