---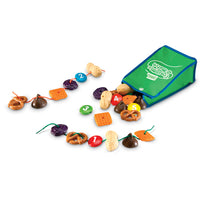 Age: 2yrs+
Find your favorite treat in the trail mix bag!
Grab-and-go activity set is great for the car and more.
Invites kids to reach in the bag and try to figure out what they're holding (no peeking allowed!).
Introduces matching, counting and patterning through hands-on activities and outdoor-themed imaginative play.
Helps kids build fine motor skills as they string together tasty treats on 2 included laces.
Set of 25 plastic snacks includes 4 pretzels, 4 raisins, 4 peanuts, 4 crackers, 4 chocolate chips and 5 candies with numbers 1-5 printed on 1 side.
Wipes clean with damp cloth.
Item size: 6 x 40cm.