---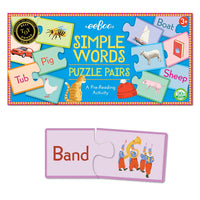 A Pre-Reading Activity: Long before children can "read" they begin to recognize individual words. When an adult reads a word, and a child selects a picture of that word to make a complete puzzle, a greater connection is made - this is the exact purpose of this wonderful Simple Words Puzzle from eeBoo!

Includes:
- 24 Puzzle Pairs (48 Puzzle Pieces)

Age: 3 Years +
Item size: 24 x 24 x 3.8 cm

eeBoo products are made with 90% recycled grey board, printed with soy based inks, thoroughly tested, durable, and designed to be enjoyed with family and friends.