---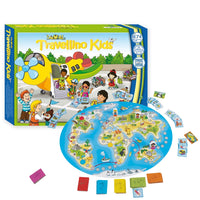 Age: 5+
A Beleduc Discovery and General Knowledge game.
Accompany the six "One World Kids" Mai-Lin, Finn, Ami, Pepe, Leila and Jamal on their trip around the world.
On their travels, the children meet new friends, discover all continents together and in this way learn about sights, animals and vegetation all over the world.
For 2 - 6 players.
Each player starts on a continent of their choice. They then roll the dice and land in different places to discover new and exciting facts.
Encourages social skills and speech development.
Contents:
1 cardboard board game (665 x 250 mm),
36 continent cards,
30 presents for guests,
6 wooden figures,
1 number dice 1-6
Dimensions: 378 x 275 x 50 mm (retail packaging)
Promotes: Social behavior, colours, communication, numbers, quantities, forms
 **Packaging may vary
Number of Players: 2-6 Parts: 74 Pieces
Item Size: 378mm x 275mm x 50mm
Age: 5+ Years
Learning Skill: Social Behaviour, Colours, Communication, Numbers, Quantities, Shapes.
Material: Wood