---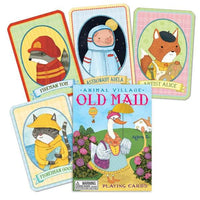 CODE: EE-PCANI
A household favourite! Animal Old Maid is a classic children's card game which can be played by 2 or more players of almost any age.

It is a great game to play with younger children in that it reinforces matching skills and has them actively participating without the need for much assistance, if any. The object of the game is to not get caught holding the odd card out.

Set includes:
- Animal Old Maid Playing Cards & Instructions

Age: 5 Years +
Item size: 8.4 x 11.8 x 2.8 cm
Card size: 8.26 x 11.43 cm

eeBoo products are made with 90% recycled grey board, printed with soy based inks, thoroughly tested, durable, and designed to be enjoyed with family and friends.