---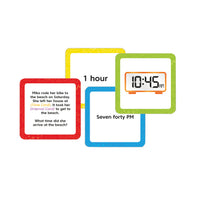 A clock face is simply a circular number line. When children grasp this concept, learning to tell the time becomes easier. Advanced NumberLine Clock teaches children lapsed time and how time is displayed on different analogue clock faces.
The hands are geared and keep the correct relationship between hour and minute, which students can use to calculate intervals of time and solve elapsed time problems.
The clock has two removable number lines and three different face styles so children can practise telling time on clock styles they will see in the real world.
Includes:
- 3 Advanced NumberLine Clocks
- 3 Time Work Mats
- 30 Mixed Time Cards
- 30 Word Problem Cards
- 15 Time Interval Cards
- 1 Multilingual Activity Guide
Age: 8 Years +
Item size: 24.5 x 24.5 x 3.5 cm
Clock size: 11.5cm in diameter