---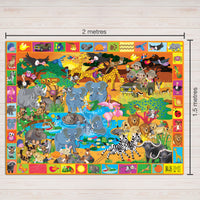 CODE:RGS2058
Our beautifully illustrated and colourful Kruger Park Activity Play Mat is a great addition to any children's bedroom, playroom or classroom.
The colourfast and durable top material has a silky texture and the vibrant colours will delight all. *Keep out of direct sunlight to maintain play mat colour vibrance.
The skid-proof base backing is safe to use on all floor surfaces.
Includes 6 Afrikaans & English activities found on the reverse of the leaflet insert. Your child can learn to recognise and name colours, learn to count, learn new words and increase vocabulary and develop listening skills.
Wipe clean with a soft cloth using mild soap with lukewarm water.
Measures 1,5 x 2m