---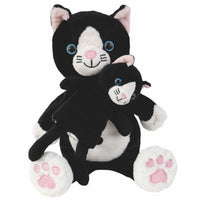 CODE:
B40460
New from Beleduc, the Mom & Baby Hand Puppets make for fantastic storytellers and role play opportunities. They are perfectly suited for teaching children about emotions and social behaviour.
Cats are little adventurers and love freedom– they can be timid or very affectionate, cuddly or very bold. All kitties need to be cuddled.
PLEASE NOTE: PUPPETS ARE MADE FOR CHILDREN'S HANDS. Please take note of the measurement provided as the puppets may not fit comfortably on an adult-sized hand.
Set includes:
- Mother Cat Hand Puppet: Cara
- Baby Cat Hand Puppet: Mimi
Age: 3 Years +
Item size: Mother - 30cm, Baby - 15cm
Beleduc, a world-renowned developer of quality educational toys for the past 50 years, is now presented in South Africa by Greenbean Learning Resources.
Guided by the principle of Play - Experience - Learn, this German-based company creates and develops puzzles, educational games, wall toys, hand-puppets and gross motor equipment all made from high-quality materials which meet all international safety requirements (EU toy regulation). These products are distributed internationally in Europe, the USA, Australia, Asia, and South Africa