---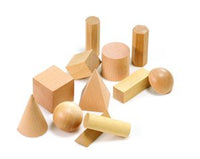 This set of 12 geometric solids is made of high-quality wood with rounded corners and edges. It is a wonderful teaching tool in terms of creating an understanding around relationships between area, volume, shape, form and size.

Includes 12 different shapes: Cylinder, Cone, Triangular Prism, Square Pyramid, Triangular Pyramid, Sphere, Hemisphere, Rectangular Prism, Pentagonal Pyramid, Pentagonal Prism, and Hexagonal Prism.

Learning skills:
- Basic Mathematical Concepts
- Fine Motor skills
- Counting
- Sorting Skills

Includes:
- 12 Wooden Solids
- Packed in a Polybag

Age: 5 Years +
Item size: 18 x 24 x 5 cm
Cube: 5cm
Sphere: 5cm diameter
Octogon Prism: 2,5 x 2,5 x 7,5 cm
Circular Prism: 2,5 x 2, 5 x 7,5 cm
Hexagon Prism: 2,5 x 3 x 7,5 cm
Rectangular: 2,5 x 2,5 x 7,5 cm
Cone: 5cm diameter 8cm Length
Triangular Prism: 5 x 5 x 8 cm
Rectangular Prism: 3 x 4 x 4,5 cm
Half sphere: 5cm Diameter
Circle: 5 cm Diameter
Triangular Prism: 2,5 x 2,5 x 7,5 cm


Material: Non-Toxic Wood

EDX products are tested for compliance with EN71, ASTM and CPSIA standards.
All EDX products meet the ISO 9001 accreditation requirements.
EDX is committed to becoming carbon neutral through re-using, recycling and improving energy management.