---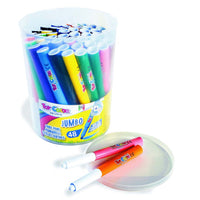 CODE: TC043
These Jumbo Fibre Pens from Toy Color feature a conical tip (5mm (Dia.)) and the water-based ink guarantees high washability from the skin with water and soap, and from most textiles through a 40° washing cycle.

Suitable for home and classroom use, these fibre pens come in 12 intense and brilliant colours.

Set includes:
- 48 Fibre Pens (in 12 different colours)
- Packed in a jar

Age: 2 Years +
Item size: 13 x 16 x 13 cm

All fibre pens are made with selected raw materials and fully comply with the strictest relevant EU requirements and regulations.