---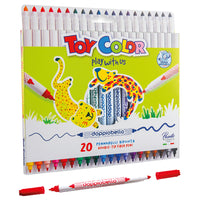 Two different strokes are available in the same fibre pen.
These fibre pens have a thin tip (2 mm) on one side and a larger conical tip (4,5 mm) on the other side. Fixed tips.
The water-based ink guarantees high washability from the skin with water and soap, and from most of the textiles through a 40° washing cycle. Safety ventilated cap, that allows air to flow if the cap edge lays against the windpipe.
Age: 3 Years+