---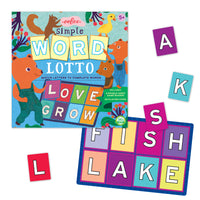 Age: 5 years +
In this simple poetic game, try to be the first to fill in the words on your lotto boards.
Lay the tiles out in a grid face-down and take turns flipping over tiles. Luck could be on your side, but if you really want to win you'll have to put your memory skills to work to match your tiles.
The first player to fill their board wins!
Item size: (L)20.5 xx (H)20.5 cm