---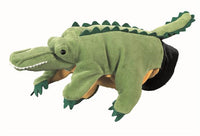 CODE: B40259
The Beleduc range of puppets (for small hands only) is also a must for role play.  
They are lovely listeners and storytellers and are perfectly suited  for teaching about emotions and social behaviour through role play.                            
PLEASE NOTE: PUPPETS ARE MADE FOR CHILDREN'S HANDS.
Please take note of the measurement provided as the puppets may not fit comfortably on an adult sized hand.                                                                                                                                  
Puppet measures 25.5cmH from wrist to tip of the middle finger. 
Parts: 1 Piece
Item Size: 255mmH
Age: 3+ Years
Learning Skill: Communication, Fantasy
Material: Fabric