---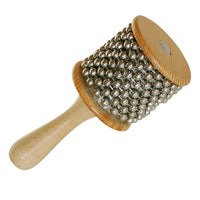 Cabasa is a kind of Orff instrument, made up of many small metal bells connected together in a durable wooden frame with handle.
♪ Easy to play by just rubbing over the metal beads with your hand or by moving the cylinder to generate unique percussion effect.
♪ It will give out beautiful sound when shaking it, which might train the hearing ability and musical talent of children.
♪ Ideal for classroom musical teaching, musical games assist, music band accompaniment.
♪ Size: 15 x 65mm.