---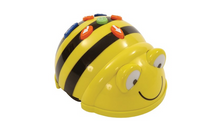 It's a robust and small design.
With clear and bright buttons.
It's memory consist of up to 40 steps.
No confusing degrees to program.
The sounds and flashing eyes are used confirm your instructions.
There are fantastic cross-curricular resources also available.
The device moves accurately in 15cm steps at a time and turns in 90°.
The dimensions are (L) 13cm (W) 10cm (H) 7cm.
Supplied with a USB lead and can be recharged through a computer or wall socket with a USB mains adapter (not Supplied).