---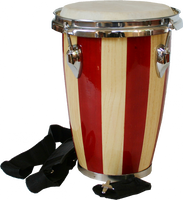 Congas refers to a long and thin barrel-like figure with a wide surface on the top and narrow shape on the bottom.
♪ It is typically classified into three namely Tumba or Salidor (low), Tres Golpes or Tres Dos (mid), and Quinto (highest and lead drum).
♪ Usually, it can produce 5 kinds of tones which include touch, bass, open, muffled, and slap tones.
♪ Generally, this modernized percussion instrument was originated from Afro-Cuban musical genres and it can perform music related to Latin rock, Merengue, Jazz, Salsa, Rumba, Descarga, and Songo